Time again for a blog post about what I'm up to for the moment and a look into what is on the horizon. First a huge thank you to all my Patreons who have decided to support me, it means a lot to me!
My second Patreon project - Islands, are moving into the final phase adding settlements, roads and other features of civilization. Which features will make it on the map will be decided by my my Patreons who have backed me at the Adventurer level or above. The results will be a set of seasonal islands mapped i exquisite detail, fully modeled in 3D. Perfect for adventures in need of an group of islands to explore. The poll close in 12 hours and at the moment the leading places are, hidden coves with and without pirate camps, the Inn of Lost Tales, Fortress Refuge and a small trading town.
I also keep a secret part of the list that will make it on for sure, that is a cartographers privilege, making sure my special favorite details make it on to the map. Delivery of the final maps will begin in about a weeks time after a final touch up. First the basic maps for all backers, followed by the advanced content that will take a little bit longer to create.
This is a busy time with a secret project for Kobold Project underway that I'm sure will please fans of Midgard. It will require me to dig deep into the toolbox and think big, really big. The results of this will if everything goes well play a part of launch of the new Midgard hardcover. It is also a first technology test for bringing old "flat maps" into the 3D realm, which will play a major role in a number of projects coming up.
Made an appearance a few days ago on Twitch Channel Return to Greyhawk run by DM Shane, you can see the interview here. 
Next commission project coming up is the Curse of the Lost Memories by Griffon Lore Games. The Kickstarter just reached the funding goal, and the first stretch goal is to have me mapping the Wailmoor area. Please consider backing this Kickstarter, the gaming community needs more cool sandbox areas to adventure in made by dedicated gamers! If the Gryffon Lore Kickstarter continues to be successful it will include more cartography and interior art by Tad Davis cover art by Oliver Wetter. The top stretch goal listed is the Regional Campaign Guide to Kingdom of Lothmar. I might be more or much more busy later this spring depending on the success of the Griffon Lore Games Kickstarter! 
This year mark the 20th year anniversary of my fantasy mapping endeavors that started with my work on a map of the Flanaess. The oldest part of that map are from September 1998, so its time to go back and revisit Greyhawk where it all started for me. This will happen in several ways, most of it done through my Patreon. First out is a new look at the Lendore Isle with the help of Len Lakofka, which will be my next Patreon Project beginning in February.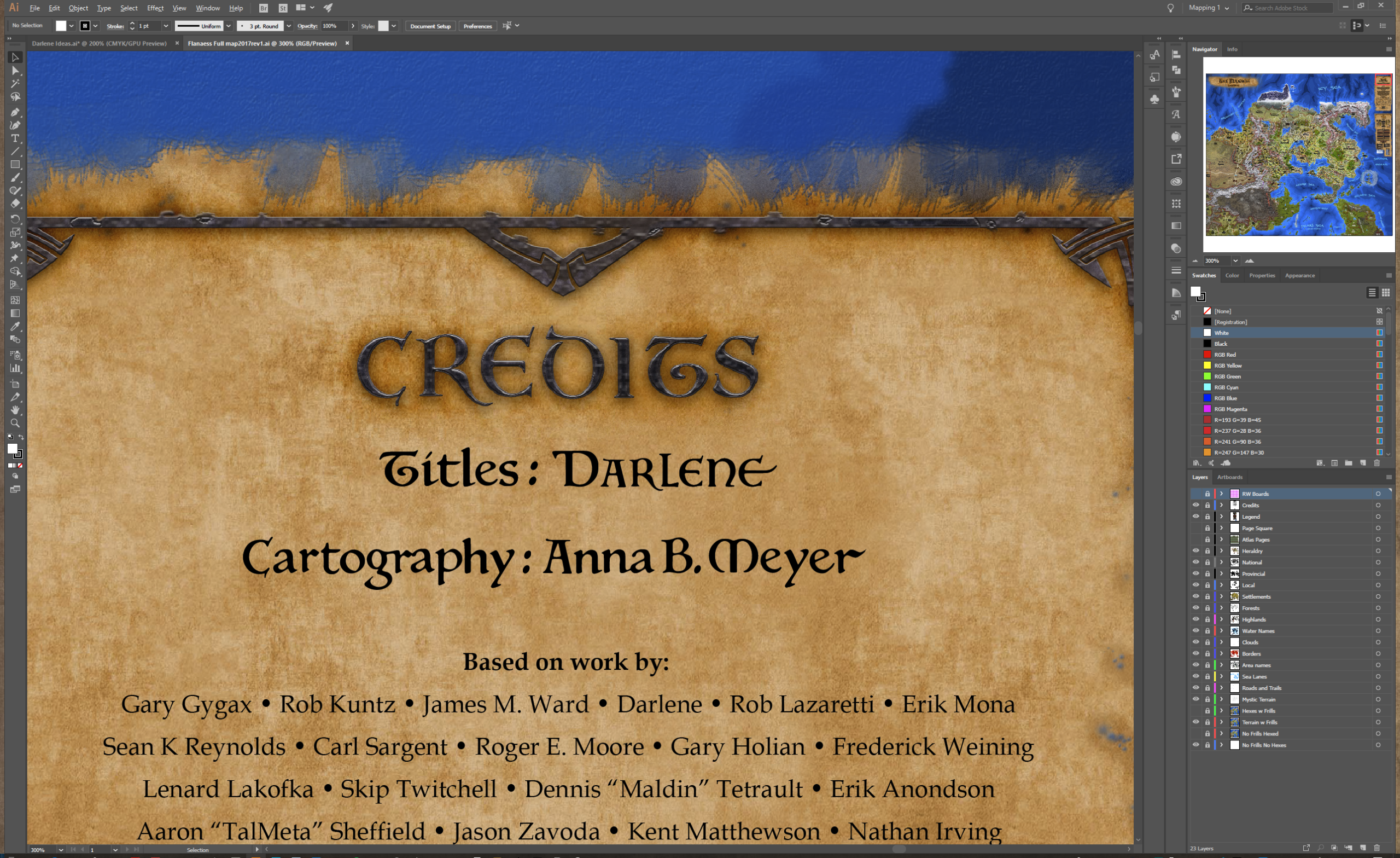 Darlene have graciously accepted to be a Guest Creator on my Patreon, her artistic talent and expertise will bring some unique possibilities to work on projects loved by Greyhawk fans. This will be a great addition to the other Greyhawk themed projects I'm planning later this year. If my Patreon continues to be this successful I plan to dedicate a whole year to Patreon starting this fall and concentrate on my passion with the Flanaess and its surroundings as a way to both recharge my creative ability and to give back to all of you who are supporting me.
Thank you again for all your support!