Here comes a look at how to create realistic lakes and rivers detailed enough to match the high resolution of 5 ft per pixel that is the target for this series of maps. World Machine does an admirable job of naturally eroding the landscape to create a realistic large area drainage and then also add lakes as well. The problem is that it creates rivers and lakes everywhere that can possibly form, and they look a bit stilted at this high resolution, so a bit of manual artistic touch up is needed.
Below is first a top down views of the terrain with all the WM lakes and rivers in blue, and then the second image with my edited layer on top in lighter blue.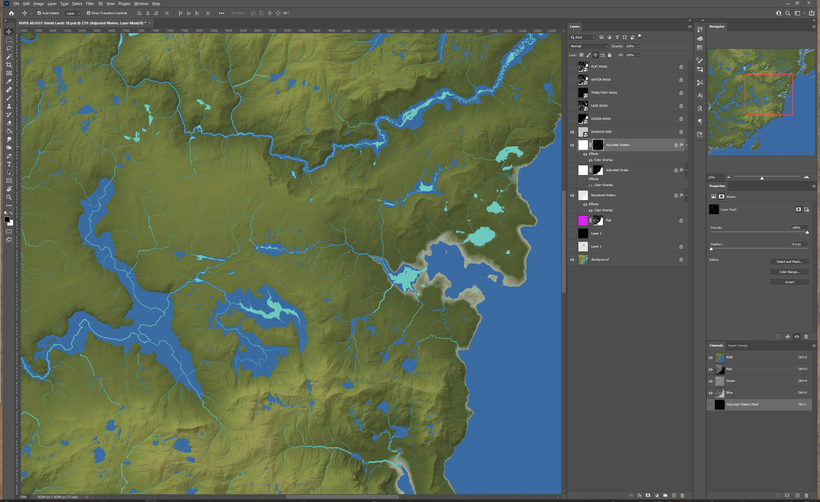 To make the export of the final mask easy I create a new layer, make it solid white and give it a mask that I can use black or white which makes all my adjustments non-destructive. A color overlay makes them easy to see and mean I can adjust visibility while working and keep mask functionally intact. A solid black layer underneath an turn off color overlay and the mask is ready to be exported.
I save it as a TIFF or PNG file which WM prefers for masks. Import it back into WM again using a File input device, and it is easy to place it if you have the same extent active as you used for the export, just click the "Place in Current View" button will get it right. And now we have the adjusted lakes and river system in World Machine. Note that this is only a test, so I have not done all the lakes and rivers, far from it. I need to spend another day or so getting the whole 16K area done. The first areas while take a lot of extra time learning a creating the right brush setting, but effectiveness will come with experience, so future areas will be done much faster. the type of terrain also plays a large role, some areas have a lot of lakes and rivers, and some might even be so water-rich that they fill out almost every possible area and little adjustment is needed.
Below is how it looks in WM using the newly created mask.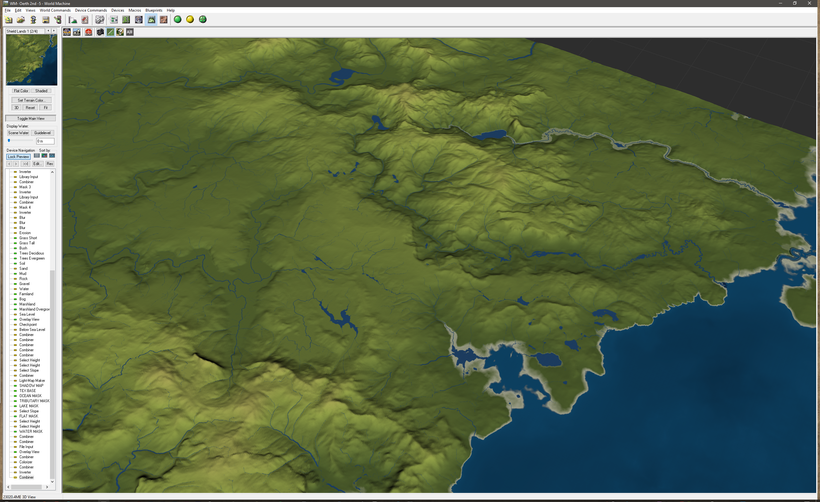 Next up after this step is to take this primitive elevation coloring and create realistic texturing and all the data needed for further enhancement in Photoshop, QGIS and Unreal.
Thank you all for your support, it is literary a lifeline for me!! 🙂